Aussie construction and engineering firm Decmil has continued to increase its project pipeline, and under the current Coalition government, $100 billion in capital spending has been allocated over the next decade for infrastructure projects. Such government spending provides an attractive backdrop for companies with the relevant expertise, like Decmil, to fish for work.
The Coalition government to the surprise of many, triumphed at the recent elections, and one of the features of 'electioneering' was an early budget which mapped out a plan to keep the nations prosperity going. Part of this was a commitment to spend $100 billion over 10 years from 2019-20 in transport infrastructure to manage a "growing population and get Australians home sooner and safer." This includes an additional $23 billion for new projects and initiatives through the 2019–20 Budget to bust congestion, better connect our regions, improve safety on our roads and meet our national freight challenge."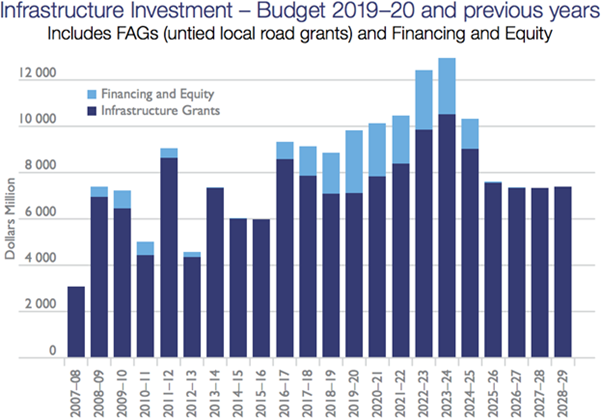 Source: Department of Infrastructure, Regional Development and Cities
Decmil has deliberately increased its focus on public infrastructure projects in recent years, and we are encouraged by the traction exhibited. The pace of Australian infrastructure activity has picked up in recent years, underpinned by additional funding from the federal and state governments. We believe the boom in Australian infrastructure will continue for some years and that current spending is only about the minimum necessary to keep up with population growth, which in Australia is relatively high for a developed country.
Growth in the expanding infrastructure sector complements the company's strength in resource infrastructure projects. A more diversified business should be welcomed by the market compared to earlier years, when Decmil was much more heavily dependent on the resources industry.
An expanding pipeline
New contracts are the lifeblood for engineering and construction firms and a good order book is critical for investor sentiment, and so the company can generate decent earnings. In mid-April Decmil announced that it had been awarded a $79 million contract for work at the Yandin Wind Farm in Western Australia. The balance of payments contract is the second for Decmil with global renewables energy firm Vestas, following the award of the Warrandage Wind Farm balance of plant works in early March 2019. The work on this latest contract is due to commence mid-2019.
The scope of Decmil's work on the project includes the design and construction of the civil and electrical balance of plant for the wind farm, that will encompass the likes of wind turbine bases, access tracks, site cabling, switch room and substation.
Earlier in April, Decmil announced it had been awarded a $105 million contract for Major Road Projects Victoria for Stage 2 of the Plenty Road upgrade. The stage 2 award follows work by Decmil on Stage 1 of the Plenty Road upgrade. Stage 2 work was to commence immediately and is expected to continue through to mid-2021.
Following the award of the Plenty Road Stage 2 and Yandin Wind Farm contracts, Decmil's forward order book (contracted and preferred) for the 2020 and 2021 financial years is $750 million on a combined basis.
We believe the foundation is being built for the improved financial results evident in 1H19 to continue. In that period, revenues from continuing operations for the six months ended 31 December 2018 soared 96% year-on-year to $275.7 million, on the back of large new contracts like the Drysdale Bypass project ($86m), QGC coal seam gas ($150m), Sunraysia solar farm ($277m) and the expansion of the BHP Mulla Mulla project (up to $153m).
Cost of sales increased 51% to $249.4 million, so gross profit rose 37% to $26.3 million. Administration expenses of $15.5 million declined marginally year-on-year and there were also modestly favourable movements in the equity-based payments and restructuring cost lines. Accordingly, earnings before interest, tax, depreciation and amortisation jumped from $1.29 million a year earlier to $9.25 million in 1H19.
Net profit after tax (NPAT) swung from a loss of $6.3 million a year ago when there was a substantial loss from discontinued operations to a profit of $5.8 million in 1H19. The net loss a year earlier excluding discontinued operations was a more modest $301k.
We believe the Australian infrastructure boom provides an attractive tailwind for small-cap construction and engineering firm Decmil. After struggling in FY16 and FY17, the company's business has staged a solid recovery. We believe there is continued scope for profit margins and earnings to grow over the next few years. The company has deliberately increased its focus on public infrastructure projects, and we are encouraged by the traction exhibited with yet more significant contracts awarded recently.
This pipeline provides clearer visibility into future revenue. The valuation at 11 times earnings is undemanding and we see scope for significant upside as margins expand.
Disclosure: Interests associated with Fat Prophets hold shares in Decmil Group
Greg Smith is the Head of Research at investment research and funds management house Fat Prophets.

Comments from our readers
No comments yet
Add your comment:
Related News:
The latest results season has proven better-than-feared on both sides of the Tasman
New Article is coming soon!
Hardening up - James Hardie
Spark New Zealand: Taking Something Off The Table
Vocus Communications
Amcor
Apple
QBE Insurance
Hot stock - Domain Holdings Australia
Orora