Sharemarket and investing books
Together with the Intelligent Investor online bookstore, we have compiled a comprehensive list of popular books for sharemarket investors. Titles range from technical investing, fundamental investing, forex trading to CFD trading. The Intelligent Investor bookstore also stocks a great selection of New Zealand titles on personal finance and property investing.
If you're looking for the latest in fiction books, we can recommend Price's Bookshop.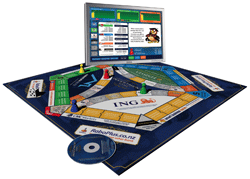 EXCITING NEW PRODUCT
The NZ INVESTMENT™ Game is an exciting strategic investment game where big fortunes may be made!
Learn a lifetime of investment experience in a few short hours.
INVESTMENT™ is an exciting investment game that's fun and educational.
INVESTMENT™ combines the traditional board game approach with the sophistication of a software package that simulates the dynamic real-life investment environment. Every game is different, and every time you play your investment skill and knowledge will grow.
Who should play this game:
Anyone wanting to become financially independent.
Investors wanting to make their investments more profitable.
Those wanting to retire young.
Parents wanting to teach their kids about good money management and wise investment.
FEATURES:
Real market data and thousands of investment scenarios so no two games are the same.
Interactive tips and investment advice from Frank Newman.
An investment performance report for each player so you can measure your success.
Online update for the latest game versions and market updates.

RRP$99.99 60.00

Buy your copy now

Or call us on 0800 345 675 and we can take your order over the phone.
A quantifiable framework for unlocking the unconscious forces that shape markets

There has long been a notion that subliminal forces play a great part in causing the seemingly irrational financial bubbles, which conventional economic theory, again and again, fails to ..

Price: $102.99

More »

Martin Roth once again applies his tried-and-tested selection criteria and rigorous analysis to determine the best public companies (representing low-risk, long-term value) for share buyers in 2014. This definitive guide to the top Australian listed companies presents all the key inf..

Price: $16.99

More »

Published continuously since 1973 and featuring profiles and performance overviews of every locally listed company, the New Zealand Investment Yearbook 2014-15 is the essential handbook for every Kiwi share market trader and investor.
It includes in-dept..

Price: $39.95

More »

Bestselling authors Ben Stein and Phil DeMuth know that investors are bored with their typical 60/40 stock & bond portfolios and curious about whether some of the new variations going around might be right for them. At the same time, many alternative strategies are going down..

Price: $27.99

More »

Forex Made Simple is the essential guide for anyone who wants to make money trading foreign exchange, without all the fuss

You don't need to be a financial wizard or spend all day glued to a computer screen to trade forex profitably. Including the information ..

Price: $15.99

More »

Helping kiwi property investors make better investment decisions

Subscribe to the NZ Property Investor magazine now!

New Zealand subscription (12 issues) - SAVE 28%!

For overseas delivery please subscribe through

More »

INVESTMENT™ is an exciting strategic investment game where big fortunes may be made!

Learn a lifetime of investment experience in a few short hours.

INVESTMENT™ is an exciting investment game that's fun and educational. By playing INVESTMENT™ you will lear..

Price: $60.00

More »