The Warehouse Group Limited (WHS) was established in 1982 by Sir Stephen Tindall, initially selling imported and manufactured clearance lines in Takapuna, Auckland. The Warehouse has subsequently grown to become one of New Zealand's largest general merchandise retailers. The group was listed in November 1994 following a public issue of 23.6 million ordinary shares at $2.50. In 2013, The Warehouse group announced the acquisition of all 92 stores of specialist Consumer Electronics and Home Appliance retailer Noel Leeming Group for $65 million NZD. This was followed by the announcement that WHS has signed an agreement to acquire 51% of the shares of Torpedo7 Limited, a leading New Zealand online retailer operating through the Torpedo7, 1-day and Urban Daddy websites in New Zealand and Australia.
On Friday 20th June, 2014, Warehouse Group, New Zealand's largest listed retailer, cut its forecast for annual earnings as warmer autumn and winter weather crimped sales and margins of seasonal clothing and home products. Warehouse expects adjusted full-year profit of $59 million to $62 million, down from its March forecast for $67 million to $71 million, and $73.7 million last year, the Auckland-based company said in a statement.
Warehouse shares touched $2.99 today, the lowest level since December 2012. The stock has declined 9.6 percent since Thursday's closing price, ahead of the profit warning on Friday. It was recently trading down 0.3 percent at $3.02, taking the stock's decline so far this year to 19 percent and making it the third-worst performer on the NZX 50 benchmark index this year.
James Pascoe, the retail group owned by David and Anne Norman, has taken advantage of a slump in Warehouse Group shares to nudge its holding up to 5.15 percent.
James Pascoe acquired 544,964 shares on market yesterday for about $1.65 million, implying it paid $3.03 a share. Warehouse slipped 0.7 percent to $3.01 on the NZX today and have shed almost a fifth of their value this year. The purchase amounts to only about 0.2 percent of Warehouse's stock, meaning James Pascoe was already close to the 5 percent threshold where a holding must be disclosed to the NZX.
The Norman's retail empire includes department store chain Farmers Trading Co, the Whitcoulls bookstores, Pascoes the Jewellers, Stewart Dawson and Goldman jewellery retailers, and Prouds the Jewellers, Angus & Coote and Goldmark jewellery chains in Australia.
The Warehouse Group is currently trading at a PE of 9.77 compared to its peers such as Briscoes Group (16.51), Hallenstein (12.07), and Michael Hill (15.92).
If you are looking for more information on Warehouse or looking to BUY or SELL the WHS shares call Equity Investment Advisors on 08004378489.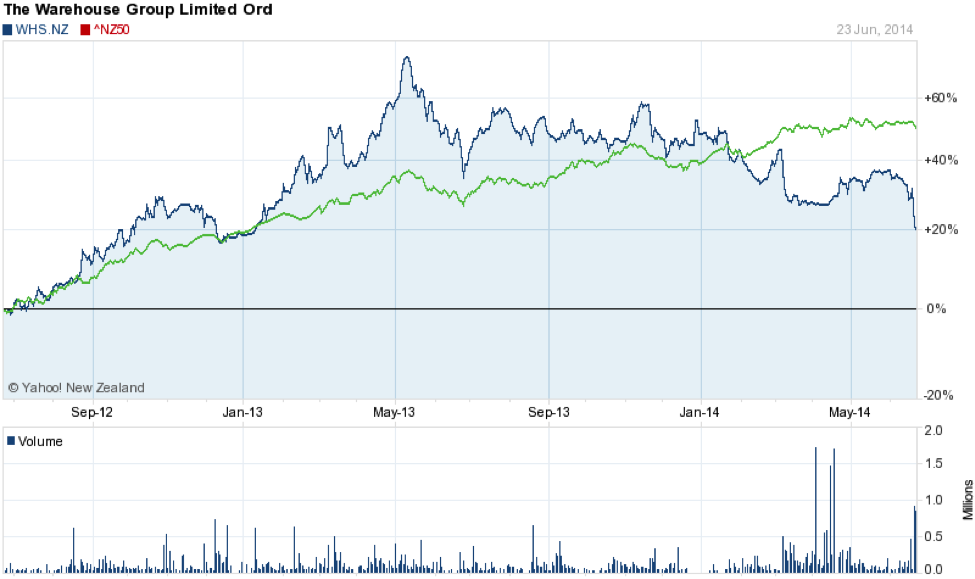 Comments from our readers
No comments yet
Add your comment:
Related News:
Senior Trust Retirement Village Listed Fund (NZX: SRF)
SkyCity Entertainment Group Limited (NZX: SKC) Change in Senior Managers
Fonterra Shareholders' Fund (NZX: FSF) Communication to Fonterra Farmers
Vector Limited (NZX: VCT) Operational Performance for the 6 Months Ended 31 December
Chorus Limited (NZX: CNU) Q2 FY21 Connections Update
Genesis Energy Limited (NZX: GNE) FY21 Q2 Performance Report
Synlait Milk Limited (NZX: SML) Increases Forecast Milk Price to $7.20 kgMS
Auckland International Airport Limited (NZX: AIA) November 2020 Monthly Traffic Update December 2020 Preview
Solution Dynamics Limited (NZX: SDL) CEO Update
Steel & Tube Holdings Limited (NZX: STU) Appoints CFO