Steel & Tube Holdings Limited is engaged in the distribution, processing and fabrication of steel and allied products. The Company's operating segments consists of steel distribution and processing, roofing products, reinforcing, wire and stainless businesses. The Company's operations include steel and industrial, manufacturing, piping, fastenings, roofing, reinforcing, hurricane and stainless. It operates an extensive network of 16 steel service centers nationwide. The Company's steel distribution network offers over 23,000 line items, including flat and round bar, structural steel sections, rectangular and square hollow sections, duragal hollow sections and profiles, sheet and coil, plate products, special steels, fastenings, purlins, wire, wire rope, chain & rigging, industrial and welding products, pipe, fittings and valves and viticulture trellising system. In October 2012, Arrium Ltd (previously One Steel) sold its 50.3% interest in the Company. Steel & Tube returned to the NZX 50 on 14 November 2012.
For the year ended 30 June 2013 Steel & Tube Holdings Limited reported: a Group net profit after tax of $15.6 million which compared to a profit after tax of $13.1 million last year, is an increase of 19%. Earnings per share for the year ended 30 June 2013 were 17.8 cents, compared to 14.9 cents for the year prior. Sales for the year was at $393 million, compared with $405 million for the previous year, a decrease of 3% on consistent volumes due to reducing steel prices. Operating cash flow increased $8.7 million to $27.5 million, which is 47% up when compared with the previous year.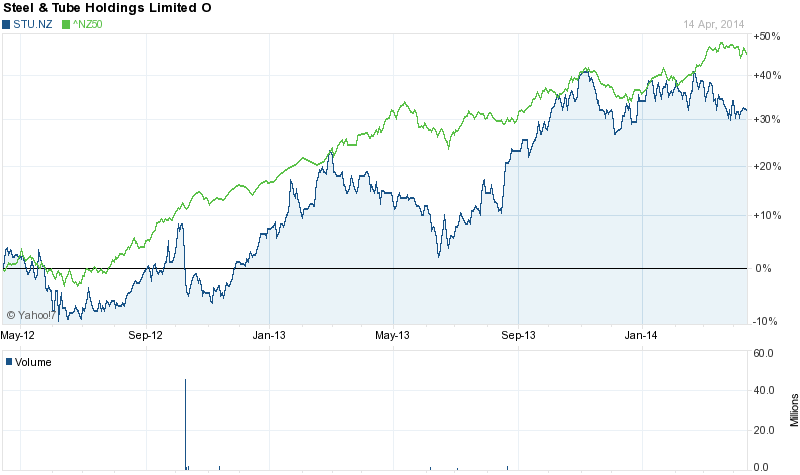 As of 30 June 2013, the total equity increased by $4.5 million to $157.2 million. Total assets decreased by $8.1 million to $222.4 million, compared to $230.4 million in the prior year. Borrowings reduced to $23.6 million and the Group reported a debt to equity ratio of 13%.
The Company declared a fully imputed dividend of 8.5 cents per share. This brings the total dividends for the year to 15 cents.
Steel & Tube posted a positive half-year result, reflecting a solid performance in the six months to 31 December 2013. Both profits and sales have increased compared to the same period last year on the back of a slowly improving economic environment. Good progress also continues across multiple initiatives aimed at improving the effectiveness of the organisation to serve customers.
The trading result for the six months to 31 December 2013 is a profit after tax of $8.0 million. This is an increase of 10 percent compared with the same period last year, and is consistent with previous guidance. Sales have also increased by $12.1 million or 6 percent to $211.7 million on improved volumes. Margins were consistent with last year despite lower selling prices. The net tangible assets per share at 31 December 2013 were $1.56 compared with $1.53 at 31 December 2012. The Directors declared a fully-imputed interim dividend of 7 cents per share paid on 31 March 2014 to holders of
fully-paid ordinary shares, registered at 14 March 2014. The amount payable is $6.19 million and a supplementary dividend of 1.2 cents will be paid to non-resident shareholders.
DISCLAIMER: To the extent that any of the content above constitutes advice, it is general advice that has been prepared without reference to investor's objectives, financial situation or needs. Before acting on any advice, investors should consider the appropriateness of the advice and IRG recommend that investors should obtain appropriate financial, legal and taxation advice before making any financial investment decision. The report is based on information compiled from public information and private research. IRG have completed the report on a best endeavours basis and do not accept any liability of loss or damage. IRG suggest that clients use this as part of a decision making process and check key data before making any investment decisions.
Employees may have an interest in the securities discussed in this report.