General Finance is in the process of reviewing its interest rates for secured term deposits, in light of:
The recently announced reduction in the OCR.
The strong inflow of funds that General Finance has experienced over the last six months.
General Finance respects its depositors and understands that it often takes time for them to arrange their affairs in order to make a deposit. As a result, the change will be for applications received AFTER the 30th of June 2019.
The new rates have NOT been set yet, however we expect that they will be similar to the adjustment in the OCR.
General Finance, and we here at Equity Investment Advisers, do not want clients to miss out on the current higher rates while they stand.
We advise all existing and prospective investors to consider General Finance Term Deposits as another investment option.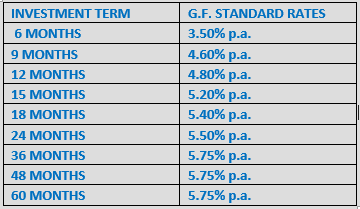 Before deciding to invest, you must read the Product Disclosure Statement below:
Please feel free to contact us if you have any questions.
Kind Regards,
General Finance & Equity Investment Advisers

Comments from our readers
No comments yet
Add your comment:
Related News:
GSH Appointment of new Chairman
Greenfern secures agreement to supply medicinal cannabis
Rua on track to export to Germany by year end
HMY SECURES ADDITIONAL NZ$215M FACILITY TO SUPPORT GROWTH
Seeka releases Sustainability Report
NZL - Completion of Retail Offer
28th June 2022 Morning Report
Green Cross Health Limited 2022 Annual Report / NOM
Me Today completes Rights Issue
Channel confirms timing of Board Chair succession