Chorus ---Is it a BUY ?
Chorus Limited maintains and builds a network made up of local telephone exchanges, cabinets and copper and fiber cables. The Company has approximately 32,000 kilometers of fiber and 130,000 kilometers of copper cabling. Chorus began trading on the NZSX on November 2011.The chorus listing marked one of the final steps towards the structural separation of New Zealand's local access network business from Telecom.
Chorus was chosen by the Crown to build a fibre network for about 830,000 premises, representing approximately 70% of the UFB initiative. In all, Chorus expects to deploy approximately 20,000km of fibre for the UFB and Rural Broadband Initiatives by 2020.The new fibre network will complement Chorus' existing fibre and copper network that provides about 1.8 million connections today. A wide range of service providers use this network to deliver fixed line phone, broadband and data services to New Zealand homes and businesses.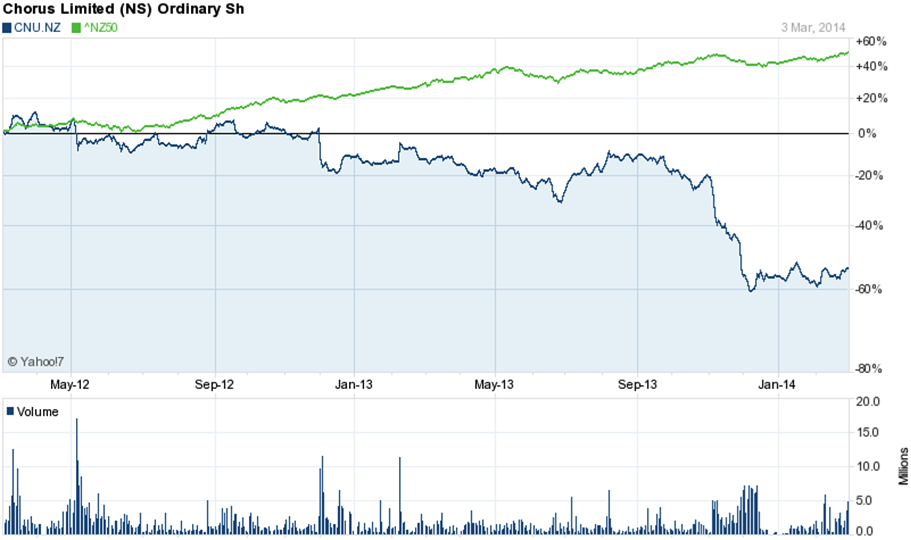 Chorus Limited reported for the six months ended 31 December 2013:
• Net profit after tax (NPAT) of $78 million and earnings before interest, tax, depreciation and amortisation (EBITDA) of $329million.
• Operating revenue for the period was $535m and operating expenses were $206m.
• Depreciation and amortisation for the period was $162m, delivering earnings before interest and tax (EBIT) of $167m.
Chorus now expects to be at the top end of its FY14 guidance range of flat to low single digit percentage decline in EBITDA, relative to underlying FY13 EBITDA of $654 million. Chorus' FY14 gross capital expenditure guidance of $660 to $690 million remains unchanged. Following on from the withdrawal of dividend guidance on 18 November 2013, Chorus has elected not to pay an interim dividend. Chorus also announced plans to scale back re-investment in the copper lines, introduce new unregulated revenue streams, and operational cost cutting as a means to limit the impact of Commerce Commission-enforced price cuts to achieve $400 million in savings.
Political risk has resulted in severe diminish of Chorus's future earnings. Share price of Chorus has taken a big plunge downwards and the company lost half of its market capitalization in 52 weeks.
What do the analyst think about its future earnings ?
What kind of investors should look to Buy Chorus shares?
Get the facts and make up your own mind.
IRG's Research Report answers these questions and provides a commentary on Chorus.
Financial Analysis Report (FAR) on Chorus Limited


The reports consist of Business summary, Share performance, Financial summary, Outlook, Management overview and Key ratio analysis. This report also comes with last 3 years historical information on the company's Annual & Interim Income, Balance Sheet and Cash flow statements as well as a graphical representation of key items.


DISCLAIMER: To the extent that any of the content above constitutes advice, it is general advice that has been prepared without reference to investor's objectives, financial situation or needs. Before acting on any advice, investors should consider the appropriateness of the advice and IRG recommend that investors should obtain appropriate financial, legal and taxation advice before making any financial investment decision. The report is based on information compiled from public information and private research. IRG have completed the report on a best endeavours basis and do not accept any liability of loss or damage. IRG suggest that clients use this as part of a decision making process and check key data before making any investment decisions.
Employees may have an interest in the securities discussed in this report.