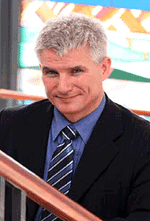 Successful businessman Andrew Barney says he is looking forward to taking on his latest challenge as the Masters of Business Administration (MBA) director at Massey University.
Fresh from a summer holiday snowboarding in Europe, he believes his background in human resources, management and training will be perfect for taking over as director.
Barney says taking calculated risks is necessary to test oneself and unlock true potential and he is looking forward to meeting the latest intake of MBA students who he sees as "kindred spirits".
"The MBA represents a real challenge - financially, and in terms of completion time - and the kind of people who voluntarily choose this tough option are always interesting," he says.
After gaining his Bachelor of Arts Degree and Masters of Philosophy, Barney worked for the Employers and Manufacturers Association as a consultant.
Prior to joining the University in 1993, he also worked on experiential (outward bound-style) training programmes for young managers, and has been teaching human resource management and organisational behaviour on the MBA programme since 1998.
Barney is also director of an active management consulting company.
He says he is now looking forward to devoting his time to teaching, as it was his passion for education and training as well as natural affinity for practical problem solving and imparting information that first drew him to the MBA programme.
"It is the longest running and one of the most flexible courses around and its quality has been recognised with accreditation by the Association of MBAs," he says.
"On top of that, the College of Business has international accreditation from the Association to Advance Collegiate Schools of Business and the calibre of students we get at Massey is exceptional."

Comments from our readers
No comments yet
Add your comment:
Related News:
Telecom will offer CEO and senior managers performance equity grants to boost profits
Former Fonterra executive Alison Andrew appointed to head Transpower
MRP director Miller, CFO Meek go trawling for cheap shares
Rob Fyfe to leave Trilogy board, seeks new senior role in NZ
David Ross appears at District Court hearing, remanded until Aug.29
Crown drops charge against ex-SCF finance chief Graeme Brown
Postie Plus appoints No 1 Shoes executive Binns as new CEO
Pumpkin Patch CEO Neil Cowie resigns to take job with rival retailer
George Alexander Louis
Time to Move Before You Get Caught in the Meridian Watershed