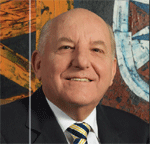 Last month, winemaker Delegat's Group said it expects to report a net profit between $30 million and $31 million when it reports its results in late August for the year ended June 30, about 20% above its previous guidance. The company said the improved profit reflects a strong sales performance in the latter half of its fourth quarter as well as foreign exchange adjustments. The company said its 2009 harvest yielded 24,268 tonnes, 2% lower than forecast and a 9% decrease on the 2008 vintage. "Favourable growing conditions throughout the summer growing season in Hawke's Bay and Marlborough regions delivered both quality and quantity and positions the company well for the continued growth of its Oyster Bay brand," said managing director Jim Delegat. The company also said it had successfully renewed its existing banking facilities with Westpac, bringing the avearge maturity of the facilities to two years.
Sharechat: What proportion of your production is Sauvignon Blanc?
Delegat's Group managing director Jim Delegat: (Of the) 2009 Harvest, Sauvignon Blanc (was) 65%.
SC: Is that likely to decrease over time?
JD: The long-term plan demonstrates that Sauvignon Blanc sales will continue to grow but decrease as to the mix to 60% by 2015, with a large portion of the mix of sales being taken up Pinot Noir, Pinot Gris and sparkling wine.
SC: How much of your production is Chardonnay?
JD: (About) 15% and growing as we continue to build distribution of Chardonnay on the back of proven Sauvignon Blanc and Pinot Noir sales.
SC: Other winemakers are reporting falling demand for Chardonnay. Is that Delegat's experience too?
JD: It is true that Sauvignon Blanc is growing faster than Chardonnay in global markets. However, Delegat's is growing Chardonnay sales in each of our major markets. We are positive about our growth potential with Chardonnay because it is the largest category globally and, as a company, we still have significant untapped distribution opportunities. Furthermore, consumer preferences are moving away from hot climate, sweet, oaky Chardonnays towards the Oyster Bay Marlborough Chardonnay style; vibrant fruit flavours and refreshing, crisp, underpinning acidity.
SC: Is there a particular problem with the Gisborne region? Do you see opportunities for Delegat's there?
JD: We don't have any vineyards in Gisborne and have no plans to expand into the region. We are focused on the Marlborough and Hawkes Bay regions which, given excellent site selection and viticultural practices, can produce world class Chardonnay every vintage. Marlborough delivers unique citrus and mineral characters that are sought-after product attributes.
SC: The analysts have suggested you might consider broadening your product range into sparkling wines?
JD: The development of a sparkling wine offering is a real market opportunity for us to consider in the not to distant future.
SC: Do you see any other investment opportunities?
JD: We are very much more focused on realising the profitable market growth opportunities that we have at present. Our supply is very much in balance with our sales forecasts. That said, we have picked up small contiguous vineyard parcels and believe that valuable opportunities will arise for evaluation. No hurry.
SC: The evidence from your various export markets suggests you've at least been able to maintain in-market pricing?
JD: Yes we have maintained or improved local currency pricing in our key international markets.
SC: Why is that possible with Oyster Bay when most Australasian wine exporters are experiencing falling in-market prices?

JD: We are a consumer led customer-driven business model. Our own in-market sales people and capital investment are focused exclusively on producing world-class super-premium wine and achieving high-quality retail distribution. Oyster Bay's brand position and pricing reflects this commitment and dedication to quality. International consumers have embraced the Oyster Bay brand and, as a result, we continue to experience growing global demand. Pricing power is lost when business activities are driven to meet balance sheet demands, such as the need to correct an inventory imbalance as opposed to sound marketing decisions that drive profitable sales.
SC: How much does your single brand strategy have to do with pricing power?
JD: Oyster Bay is now established as one of the leading super-premium wine brands from a leading New World cool climate producer in Australia, the United Kingdom, Canada, Ireland and New Zealand. In the consumer's mind, it is an easy to understand, quality value offering.We are also on the path to achieving this in the United States and other markets. Ultimately, it is international super-premium wine consumers' connection with and belief in Oyster Bay that underpins the continuing success of our business. Again, a consumer-led business with consistent brand/product/promotional management over a long period of time: remember Oyster Bay has being in the making for almost 20 years now, first vintage 1990.
SC: Are you still being pressured by retailers in Britain to cut prices and how are you dealing with such demands?
JD: There has been a lot of discounting of wine by retailers in the United Kingdom over the past year. The retailers have been competing hard with each other to be perceived as offering the best value. Overall, we have fared well in this environment with strong sales growth whilst avoiding excessive price off promotions. Oyster Bay is an aspirational wine brand and retailers recognise that it continues to achieve a category-leading rate of sale at super-premium prices, delivering for them lucrative profits.
SC: Do you expect to be able to maintain Oyster Bay's premium pricing over time?
JD: Yes. The quality of the wine and the aspirational brand support sustains super-premium pricing. Importantly, (so does) managing to balance the supply demand ratio.
SC: How is progress in the US?
JD: We are achieving good sales growth at profitable prices in our US business. Some highlights over the last year include Oyster Bay becoming the number one Sauvignon Blanc in Massachusetts and recently becoming a top 10 import wine brand over $US 10 retail. We now have a very capable US-based sales team of 20 people working together with our State distributors. The United States is our largest long-term growth opportunity and we are consistently growing the distribution of Oyster Bay over there.
SC: What's happening to inventories?
JD: Our inventory levels are slightly lower than they were at the same time last year and are in line with sales demand.
SC: Do you expect to sell all production from the 2009 harvest over the next year?
JD: Yes.
SC: Are you in "batten down the hatches mode" or are you still pursuing aggressive growth?
JD: Delegat's is a growth business and our aim is to again grow case sale volumes significantly. Delegat's will continue to execute its strategy with precision and dedication. Again, our focus is to grow case sale volumes while, equally as importantly, growing the sustainable earnings of the business.
SC: Was it more difficult to renew your banking facilities than previously?
JD: Delegat's is a very good business and we have worked very hard to develop and maintain a strong relationship with our bank, Westpac. The ongoing, open dialogue between both the CFO (chief financial officer) and chairman of Delegat's and the bank's senior relationship manager have been of great benefit during the facility renewal. The bank's scrutiny of financial projections and the resultant pricing of the facility has been sharper. The facilities were renewed without difficulty.
SC: Are you having to pay a higher margin?
JD: Yes. The increased cost of funds of all of New Zealand's banks is very well documented in the media and it stands to reason that these additional costs have to be passed on to clients. Being a good business customer of Westpac's, we believe that the increase was kept to a minimum in the circumstances.
SC: Has Westpac tightened your banking covenants?
JD: No. The covenants are exactly the same as they were before the credit crisis and before we renewed the facilities.
SC: You've always exceeded your own forecasts since the company listed in 2004. Are you deliberately conservative?
JD: Delegat's sets its sales targets and financial projections as challenging objectives for all staff involved. We are a rapidly growing business and in some cases we have realised targets ahead of projections. We do not intentionally understate our financial projections in order to exceed them. It is down to a very good business model and excellent execution of the annual business plans.

Comments from our readers
No comments yet
Add your comment:
Related News:
Delegat's posts 62 percent gain in annual profit as value of vineyards, grapes increase
Delegat's confirms jump in harvest, IFRS harvest gains to lift FY net profit
Delegat's Group Limited
Delegat's buys Australia's Barossa Valley Estate assets out of receivership for A$24.7M
Delegat's lifts first-half profit, selling more wine while keeping expenses in check
Delegats expands in Hawke's Bay
Jim Delegat loses suit against director of Salthouse Marine
Delegat's sees small lift in annual earnings, warns on strong currency
Delegat's FY profit falls 22 percent on lower harvest, drop in sales
Delegat's first-half profit reaches a record before non-cash writedowns